Thank you to everyone who came out to see our show and making our extended run a success! For that, we'll eat you last.  We had 12 sold out performances in October and November of 2012.
2013 Update -
Gorilla Tango Has released their poster for the 2013 edition of the show.  The script is the same, but K Leo is not directing the 2013 run.  Cast photos have not yet been released.  
Have no fear, the zombies in the show are not the grey, decomposed version depicted on the poster below.  The zombies are still "burlesque zombies", meaning that when infected victims take on the sexy traits of undead burlesque dancers and not tattered flasher hippies.
2013 Boobs of the Dead Poster
The 2012 poster is below
The poster for the first season of the Walking Dead was iconic and amazing.  It was a lone horseman riding into Atlanta on an empty highway.  The full and un-moving outbound lane foreshadowed everything he would find there.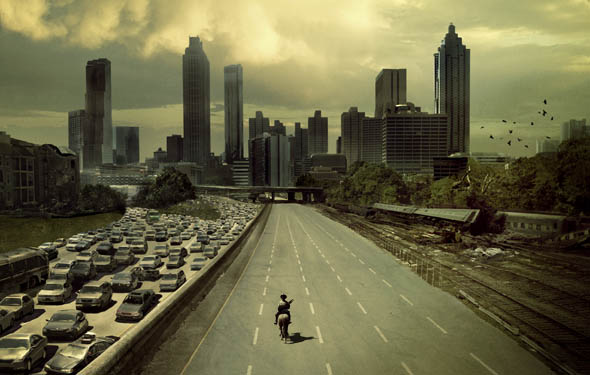 When it came time for K Leo to design the poster for Boobs of the Dead: A Walking Dead Burlesque he decided to recreate the poster scene using the Chicago skyline.